Hungary and Hungarian dentistry has been leading the dental tourism top list for affordable dental treatment for many years now. More than 40 % of European dental tourists and about 20% of dental tourists from outside Europe choose Hungary. This choice, this trust are well-founded. Hungarian implantologists offer patients from all over the world highly qualified dentists and assistants. They guarantee world-class level implants and their prices are 60% less than in other countries.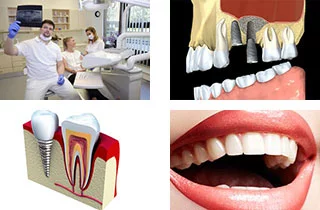 From this article you can learn the following:
Quality advantages of an affordable dental treatment in Hungary
Prices in Hungary and in Western Europe
Our chief surgeon
There are very good reasons why Hungary is the top country (both on European and on world level) providing affordable but excellent quality dental care to foreign patients. Hungary has always had an excellent level of education for dentists. Also, Hungary has a high number of dentist per capita and relatively low costs of living. Therefore dental tourists find a combination of low prices and high-level services here.
Quality advantages of an affordable dental treament in Hungary
Hungary's geographical position, Western European-style culture and high public safety all play a role in so many international patients choosing Budapest or other Hungarian cities for their affordable dental treatments. Patients coming to Hungary for their dental implants can expect a 60% lower price compared to what they would pay in a private dental practice in their home countries. What do you get in Hungary for this really convenient price? The following:
highly qualified dental personnel with decades of practice in dental tourism
warranty both on the surgery and the elements of your implant
excellent quality implants, superstructures and prostheses (crowns, bridges) from Swiss, German and Israeli manufacturers
quick and detailed treatment plan and quote for an affordable dental treatment
in many cases assistance to your dental trip to Hungary
Prices in Hungary and in Western Europe
Implants, superstructures and prostheses (crowns, bridges) can come both in standard and in super brand quality – you can still get them for a significantly lower price at Hungarian dental clinics. See the chart below for comparing prices. Hungarian costs contain the materials, the laboratory fees and the dentists' fees as well.
Cost of dental implants abroad

Ireland*

Hungary**

Swiss standard implant

Ireland* –

2350 €

Hungary** –

from 650 €
Swiss standard implant abutment

Ireland* –

420 €

Hungary** –

from 120 €
Sinuslift

Ireland* –

1100 €

Hungary** –

from 550 €
Minilift

Ireland* –

650 €

Hungary** –

from 300 €
Long-term temporary denture

Ireland* –

720 €

Hungary** –

from 390 €
Metal-ceramic crown

Ireland* –

650 €

Hungary** –

from 190 €
Zirconia crown

Ireland* –

970 €

Hungary** –

from 300 €
Two unit bridge, metal-ceramic crowns

Ireland* –

1300 €

Hungary** –

from 380 €
Two unit bridge, zirconia crowns

Ireland* –

1940 €

Hungary** –

from 600 €
*Source: 2016 National Dental Advisory Service, Comprehensive Fee Report
**Source: Average prices of the 3 clinics of BestDentalSolutions
I want to get a quote