Western-European patients may save a great amount of money if they acquire dental help in a reliable foreign country. Hungary – current leader in dental tourism – is one of such countries. Still, many people are reluctant to travel abroad. They are afraid of the lower quality of service, cultural differences and language difficulties. Sometimes they worry about the inconveniences of the trip. Patients who choose our clinic in Hungary can forget about these problems. The treatment of our patients from abroad is carried out by our highly experienced team. We also provide you dental help, which ensures that you get to us quickly and easily.
This article offers you an overview of the following topics: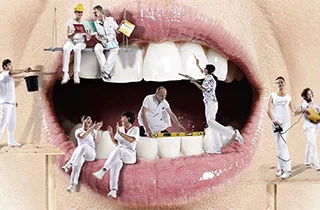 Help with the planning phase
Planning the trip
Arriving in Hungary
Your trip home and the guarantee
How to ask for a quote
Our clinics, Vitalcenter Clinic in the elite district of Budapest, Sopron Dental Clinic near the Austrian border and Dental Vienna Clinic in Vienna look forward to welcoming you with their services. We are happy to assist our patients from abroad with significantly lower prices, a complex clinical environment and well-trained teams of experts.
We are well aware though that traveling abroad may be mentally demanding for some; thus, our clinics provide additional services to these people. That is how we would like to make their trip here and back home easy and comfortable. Also, we find it very important to ensure our dear patients a pleasant stay in Hungary.
Help with the planning phase
We provide dental help as early as in the planning phase. If you ask our clinic for an offer, we send you one within 24 hours. The treatment plan and the quote are both included in the offer. We do our very best to help you even already this phase. You can count on our colleagues in terms of advanced English and German language skills. So if you ask them for help, you should have no problems with quality or language – two common issues when traveling abroad – at all. You are informed in great detail about the process of the intervention, and the materials and implants that we will use. We may even invite a specialist doctor for your phone consultation if necessary.
Planning the trip
When you have accepted our offer, we discuss the exact date and process of your treatment, and a dental personal assistant will start organizing your trip to Hungary. What does this mean? They find the available flights or trains, and the cheapest and most convenient opportunities for you, and provide help with booking the tickets. Also, they send you the list of partner hotels that we wholeheartedly recommend, and which are located near our clinic.
Arriving in Hungary
Upon your arrival to Hungary, we leave nothing to chance. Our driver will be waiting for you at the meeting point to take you to your accommodation or to the clinic by car. Later, the same driver will take you to the clinic for your treatment. During your stay, you will be given a cell phone with a Hungarian phone number. Your dental personal assistant will not only assist you in the planning phase, but also during the whole time of your stay. They can help you with choosing a restaurant or find cinemas with English-speaking films for you. They are also very helpful when it comes to finding a club, or any cultural events and wellness opportunities in the city. Budapest has a wide range of cultural sights, prestigious restaurants and theatres. You can enjoy the network of our world-famous baths as well. All the assistance is completely free of charge for you.
Your trip home and the guarantee
We help you organizing your trip back home the same we way we did with your trip to Hungary. We find the best flight or train fares, and our driver takes you to the airport or the rail station. But our assistance does not end here – should you visit us 3-6 months later for another treatment, we will help you with your trip similarly to your first visit here.
Our guarantee for our work and all the materials we use is the culmination of all that is mentioned above. We provide a full guarantee of 5 years for our surgical interventions, and 10 years for our implants.
How to get a quote from our clinics
You can obtain a quote via telephone, e-mail or by filling the form available on our website.